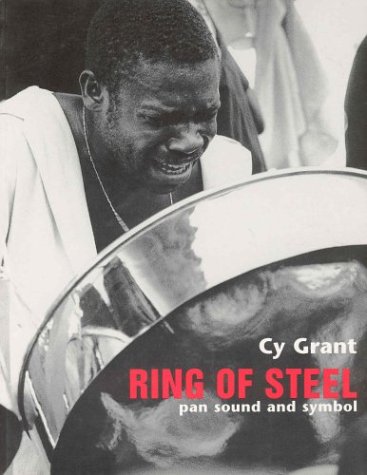 Ring of Steel – Pan Sound & Symbol by Cy Grant
Macmillan Education Ltd., 1999; ISBN 0-333-66128-1.
128 pp, 276x219 mm, 37 col 21 b/w photos, £14.95
This beautifully illustrated book tells the story of the only acoustic musical instrument to be invented in the 20th century, the steel drum of Trinidad and Tobago.
Pan (the common name of the steel band) is closely linked to the world famous Trinidad carnival and calypso. Twenty eight calypsos, as well as poems and other literature on pan are quoted in the book.
The story of pan is a mythic one, in the sense that Joseph Campbell used it in "The Power of Myth" - a story imbued with meaning, a story of our times. For Campbell, mythology was the song of the Universe - the Music of the Spheres; which is the title of the final chapter in the book.
It is said that as Pythagoras, the 6th Century Greek philosopher was walking past a brazier's shop he heard hammers beating out a piece of iron.. This led him to discover the harmonic or overtone series. The sounds Pythagoras heard have resonated down the centuries. Today Trinidadians refer to playing pan as beating iron.
The transmutation of industrial waste material, i.e discarded oil drums, into a highly tuned percussion instrument which today resonates around the world, is nothing if not an alchemical process. Alchemy involves a base metallic material, the outward form of which has to be first destroyed, the energy released and reunited. Then heat is applied, blackening the substance, something known as nigredo. Alchemy if properly understood means that whenever something important evolves, everything around it evolves as well - in this case the society itself. Hated at first, the steelpan is now the national instrument of Trinidad.
The book traces not only the physical development of the steelpan, the plight of the early pioneers and their struggle for survival and acceptance, the social function of the pan yard and the rivalry between the bands manifest in the annual Panorama competition but also the spirit and pan-world spread of Pan.
"The story of pan, is that West Indian culture, perceived subversively as a part of a trinity, has the power to heal "rifts in a divided society" and that the continued evolution of pan is vital to "an evolving sense of identity and culture" unavailable in the West. Consequently, the illustrations in the book are, apart from Las Casas on Columbus, all from poets, novelists and calypsonians, never from official documents or newspapers. Grant allows the artists to recreate the places, events and people of his mythic history, much as Brathwaite employs the "folk" in defining "voice" in West Indian poetry. It is testament to Grant's ability as poet and calypsonian that he is able to locate pan's voice within the text of a sound technical exposition of an instrument….the story is a holistic one, its various strands being neatly woven together." Wasafiri Wasafiri
"An elegant and unique exposition of the steelpan .. .. .. a handsome text" ERROL HILL Errol Hill
"An understanding of the mystical relationship between form and sound.. ..a celebration of the irrepressible delight of human creativity and the strength of the human spirit" Caduceus